Solar WiFi Security Camera (UBox App)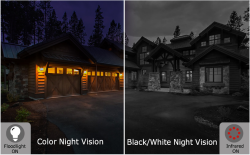 How can I turn on the night vision?
Tuesday, 17 August 2021

6

4598

0
The night vision is automatically, it only works when there is not enough light, and
you can easy switch the flflood light or infrared led when you watch live picture. The
flfloodlight
is ON when it is triggered and wake up at night, it is powered by battery,
so you can not use it as a traditional flflood light.