Security Camera Indoor/Outdoor Wireless Solar Battery Powered, HOSAFE WiFi Video Surveillance Cameras for Home Security, Color Night Vision, 2-Way Audio, Motion Detection, Waterproof, Cloud Storage
{language.product_general_description}}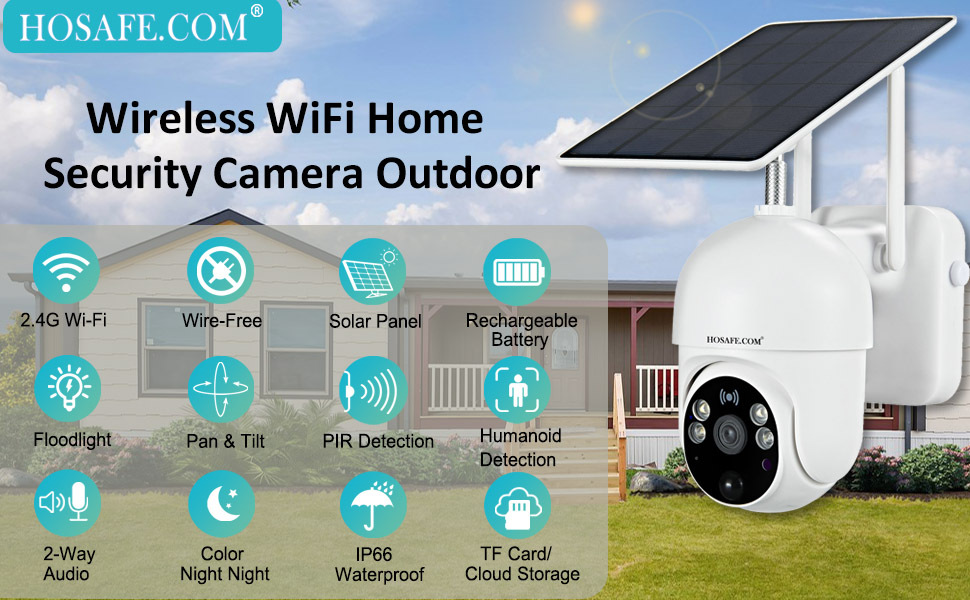 Solar Battery Powered Wireless Home Security Camera Indoor/Outdoor
HOSAFE wireless solar security camera battery Powered is designed as an easily used/installed wireless home security camera system, no need plug in, just turn on the power, set up wifi in 3 min, and fix it anywhere you want with several screws, your home will be under protection well.
Built-in instant PIR human-AI motion detection technology, all-important human motions will be detected and send notifications to your phone timely, and the motion events will be saved to Cloud sever or SD card for playback (support 32~128G micro SD card, not included)
Note: This brand new concept outdoor wireless security camera can only work with the phone app "UBox", it can not work with other 3rd party app or ONVIF software/device, because it is already a complete home security system by itself.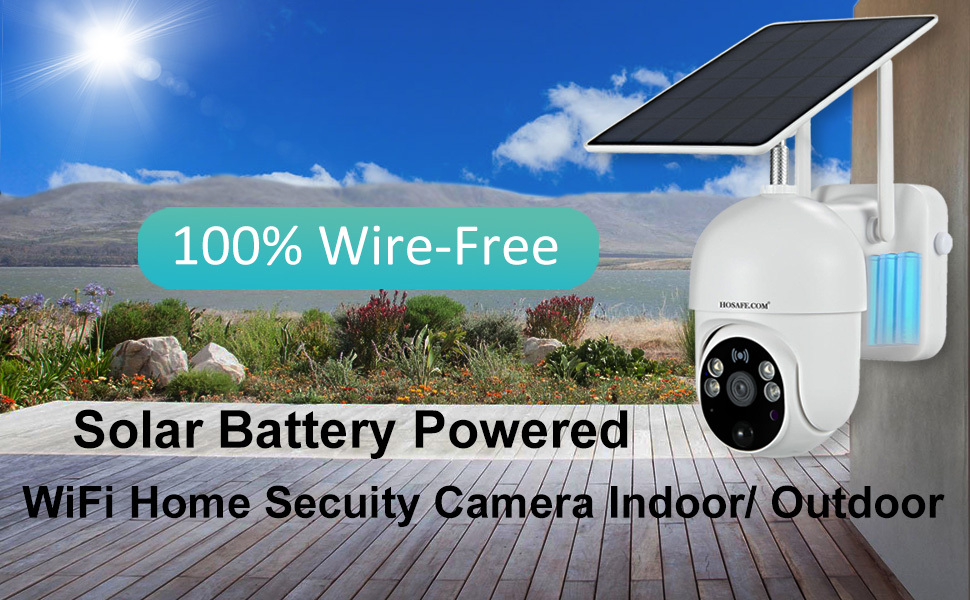 100% Wire-Free, Solar & Rechargeable Battery Powered:
HOSAFE solar camera is powered by 14400mAh rechargeable battery and a solar panel, no need plug in, there is no limit for installation position, as long as it is stable WiFi signal covered. You can put the solar panel on the camera and install the whole security camera outdoor, and it also allows you to install the camera indoor, put the solar panel outdoor/on the roof (10ft solar panel power extension cable included). This outdoor wifi camera transfers data via 2.4G WiFi only (does not support 5G), please test wifi signal strength before installing it.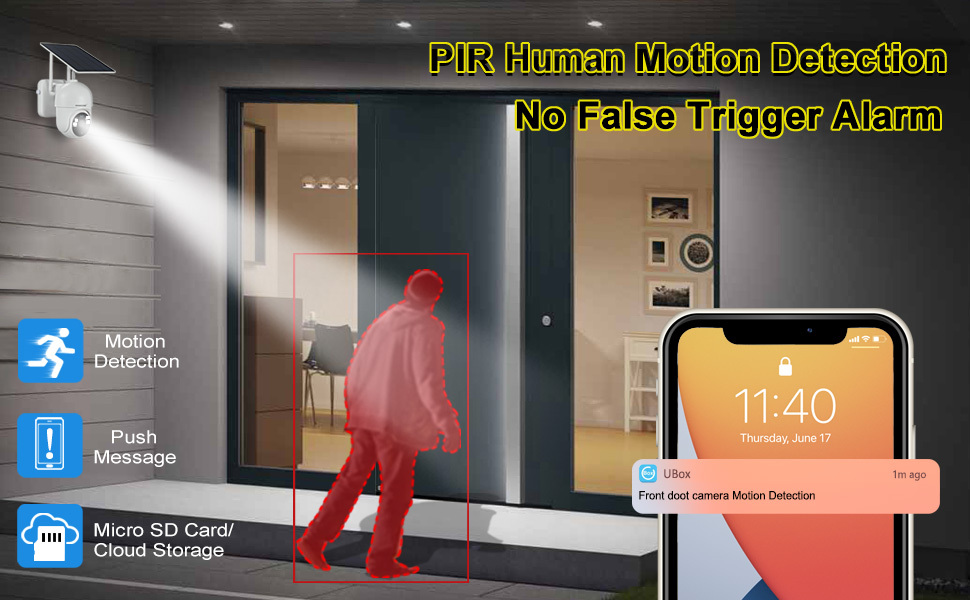 Instant PIR Human-AI Motion Detection, Record to Cloud/SD Card
HOSAFE outdoor wireless security camera is built-in instant PIR huma-AI motion detection technology, it has a sensitive PIR (passive infrared) sensor which can detect human moving, plus its Intelligent humanoid detection algorithm, this wireless home security camera can avoid 99% false alert (light change, waving leaves, bug fly, etc). All human motion events could be detected and send notifications to your phone timely, all motion events videos will be saved to the sd card (not included) or Cloud server (Even the camera is stolen or damaged, you can also playback the videos from the Cloud).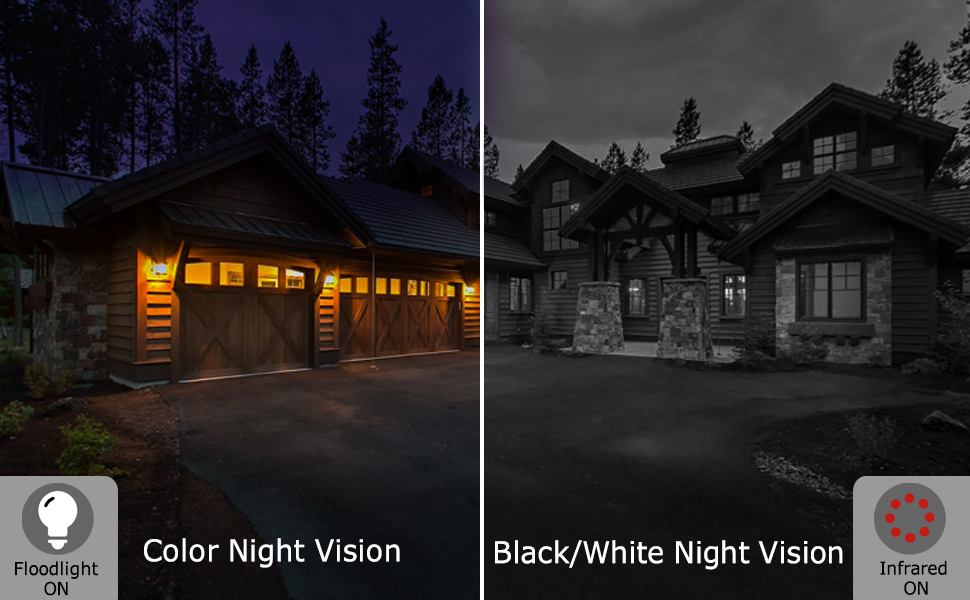 Full HD 1080P & Color Night Vision
HOSAFE outdoor wireless home security camera has a Full HD 1920*1080P image sensor, which could offer stunning clear pictures for day and night; this wireless floodlight camera has 4pcs spotlights/IR combined LEDs, that allows you to watch a full-color picture at night, put it in the yard, you will have a wireless home security camera and a flood light. There are 2 night vision modes: IR led working mode, only red IR led work when detecting motion, it is black/light picture; spotlight mode, only white spotlight work when detecting motion, it is color night vision)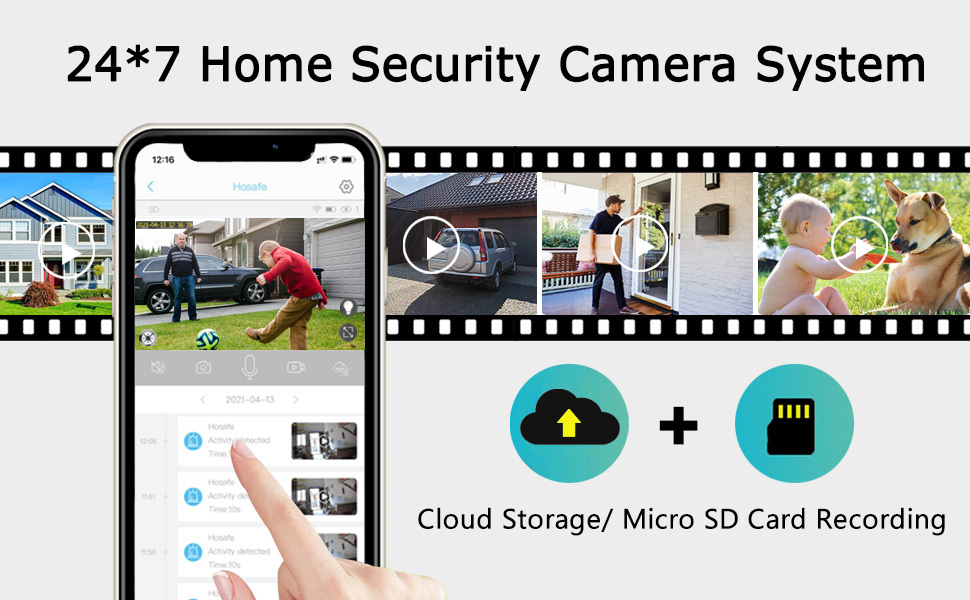 Cloud and SD Card Storage, Easy Playback
HOSAFE outdoor wifi camera for home is a complete security camera system, it can save all human moving events to sd card or Cloud server (sd card is not included; cloud plan is not free for lifetime, but very cheap, we offer up to 6 months free cloud storage service). Based on the updated app, you can easily playback the saved videos on the phone app, and download the important videos to your phone. We recommend all customers active the cloud storage service, that will maximum protect your videos, even the camera is destroyed or stolen, you can also playback/download the videos from the Cloud.
Note: All videos are stored in the encrypted cloud server, nobody can view or download except the cloud plan owner, customer's privacy is absolutely protected.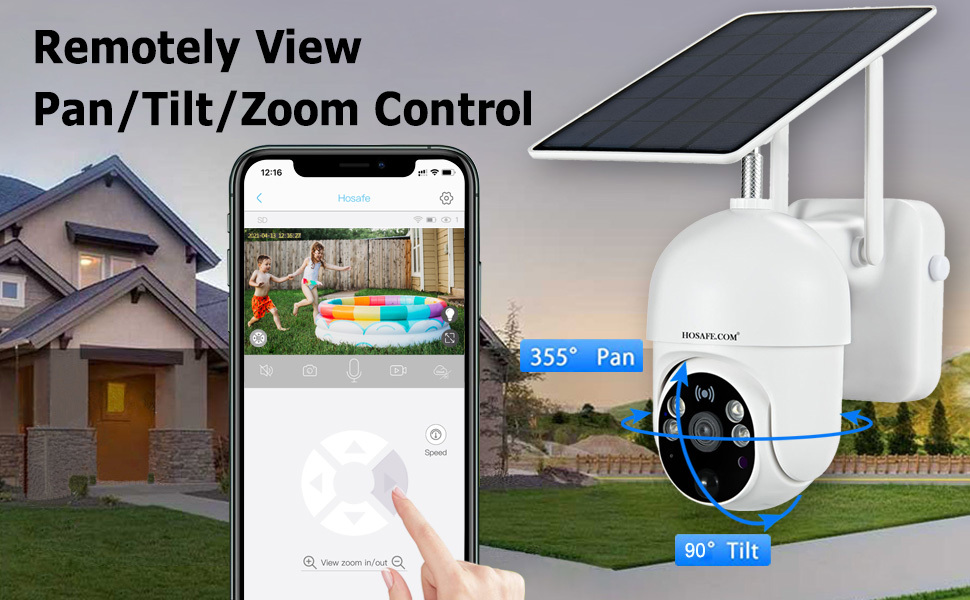 Remote View, Pan Tilt 4x Digital Zoom
This outdoor video surveillance camera for home security could be accessed from the phone worldwide remotely, as long as the camera is connected to your home wifi and your phone has wifi/4G data.
This 360° view rotating camera has PTZ function (Pan 355°, Tilt 90°, 4x digital zoom), easily control on the phone, you can look around the whole yard with this single camera.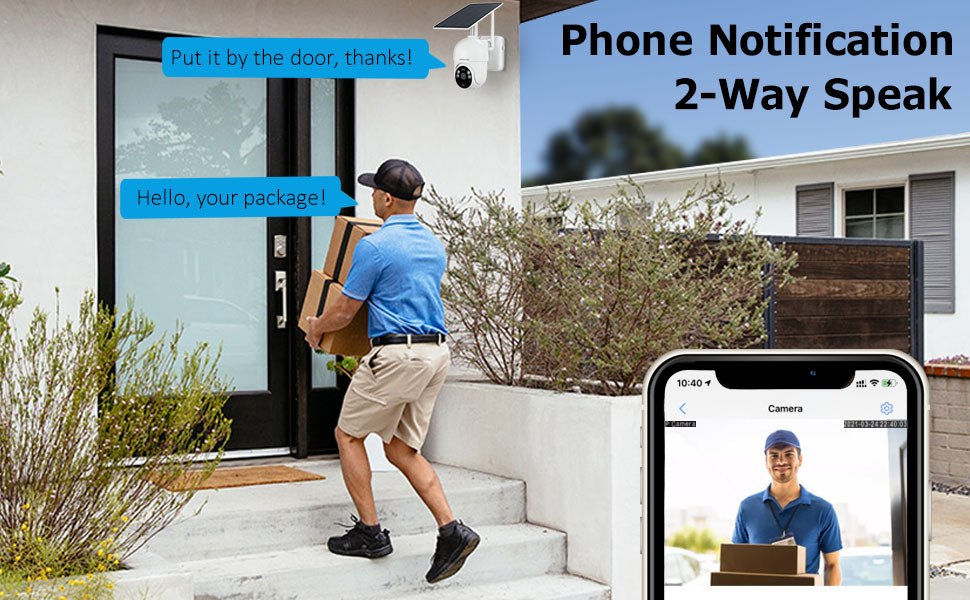 2-Way Speak, Send Notification to Phone When Detect Motion
When you are not at home (working or traveling), your lovely home will be protected well by this HOSAFE outdoor security camera, while there is a visitor, you will receive an alert message on the phone, then you can quickly check what is going on, there are built-in microphone and speaker, which allow you to talk with the visitor on the phone easily.
Tutorial Video