Solar Security Camera (RBX-S40)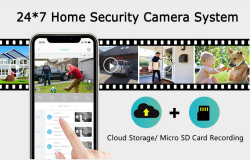 How long can the sd card record, can it record 24*7?
Tuesday, 17 August 2021

0

1437

0
This camera supports 32~128G micro sd card, usually a 32G sd card can save videos
for 1 month, it is based on how often the camera is triggered per day. And if you do
need it continues recording, go to camera setting-->Active time-->Always, then it will
save a video every 5min, But this camera is powered by battery, it can only continues
work for 12 hours.