Outdoor WiFi Security Camera (HX-2PT1 )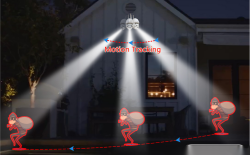 How to turn on the Auto Tracking of the camera? Can sound trigger tracking?
Friday, 20 August 2021

1

3420

3
Go to camera live view page, slide left 2 times at the bottom, you can see there is a
"Intelligent Tracking" icon at the bottom, tap to turn on, then it will track the motions .
For tracking, it is only triggered by motion, not by sound
can trigger alarm, but not trigger tracking