Outdoor WiFi Security Camera (HX-2PT1 )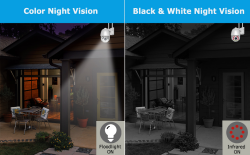 How to make Floodlight work at night?
Friday, 20 August 2021

0

2795

0
Open camera live view page on phone app, slide left twice at the bottom, tap "Night Vision Mode" icon, you can see "Ordinary", "Color" and "Intelligent". "Ordinary" means only IR LED work, black/white picture at night; "Color" means only Flood Light work, color picture at night, "Intelligent" means Flood Light work when detect motion, otherwise, only IR LED work, please select the best according to your request.