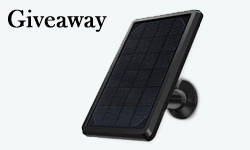 How to get Free Solar Panel for Battery Powered Security Camera?
Thursday, 18 June 2020

1

6451

4
Dear Valued Customer,
Thanks for buying HOSAFE solar battery-powered security camera, if you need the solar panel to charge the battery, please kindly test the camera functions first and write a positive review on Amazon, then Click Here to upload your review screenshot and shipping address, we will send out the solar panel/gift in 1 week.
If you have any questions about posting a review on Amazon, please feel free to contact us via Email: support@hosafe.com.
Best Regards,
HOSAFE Support Team